How Loomly can help your nonprofit
Technology is changing very quickly and it is difficult to keep up. Some of the new technologies can make a significant impact on your daily tasks, increasing efficiency and quality of your end product. Don't reinvent the wheel…we will give you a brief taste of these tech tools so you can decide for yourself if you it's right for you.
The ShopRaise Tech tools for nonprofits webinar series is where we share the tools, methods, and technology that we use at ShopRaise that can help your nonprofit up your marketing game.
Note: All the technology tips and tools we discuss in our blog series are ones that we use in our daily routines, we get no kickbacks, bribes, or deals you can't refuse from these companies. We pay for the service and we want to share these tools with you. Even better than that, most of these technologies have a program for nonprofits that is either significantly discounted or free.
Introducing Loomly
Loomly is a social media brand, content, and management marketing platform where you can manage, craft and schedule social media posts that engage supporters on social media platforms. While there are many social media management platforms like Hootsuite, we have found that Loomly is both easy to get started and has a full feature-set for those want to take their social media prowess to the next level. With Loomly you can:
Craft posts and ads for social media
Plan, create, schedule, and publish
Plan with real time collaboration
50% off for nonprofits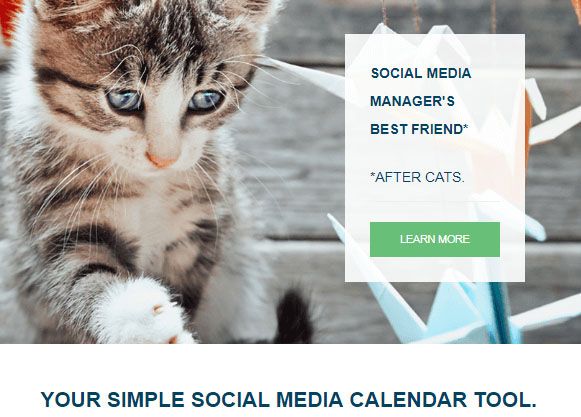 Loomly Features
Loomly has a ton of great features that make managing your social media initiatives simple and easy.  It really is a one-stop-shop for design. Here are a few of the features that stand out:
The interface – Loomly has a simple yet sophisticated interface that allows you to easily  create and schedule your posts. It takes the hassle out of managing multiple social media accounts by bringing these features into one location.
Calendars – The most basic element in Loomly is the calendar. When crafting a post, you will start by selecting the date and time you want your post to go live. You can set up multiple calendars to organize different business groups or focuses. At ShopRaise we have one general calendar for our regular business posts and a separate calendar for our webinars. It's up to you how you want to organize your posts.
Crafting posts – Crafting a post with Loomly is easy. Start by selecting the date and time of your post on your calendar. Loomly will then walk you through several steps in setting up your post for all of your social media accounts.
Set up post details – like date / time, subject of the post and any labels. (Both subject and labels organize your posts in Loomly for internal viewing only. Your subject line isn't front-facing like it is with your emails.)
Select social media channels – Select which social media channels you want your post to appear.
Define your generic content – Write the general copy for your post. Each social media sites have  different requirements for photo sizes, copy length, and recommended send times. Type out the longest post to start, and fine-tune later.
Fine-tune Each Channel – In this step you can adjust the content, image, and URL requirements for each platform. In this step you can also preview the post to make sure that it looks good!
Create Post – Once you've completed building your post you can post it immediately or schedule it for the future. Of course, you can edit your content any time before it is posted.
Customizing for each platform – Loomly provides simple and effective tools to manage multiple social media accounts in one place. ShopRaise focuses on Facebook, Instagram, LinkedIn, Twitter and Pinterest. Instead of taking ½ hour to post on each platform separately, Loomly allows us to craft a message and select each social media platform to post at one time.
Collaboration – The collaboration tools are equally as beneficial. From inviting your team to collaborate, to commenting on posts or even creating a process workflow is extremely easy in the Loomly interface.
Reporting – Loomly provides intuitive reporting giving your organization a great overview of your social media empire. You can view an aggregate report showing interaction for your account or even view results for each post within each channel.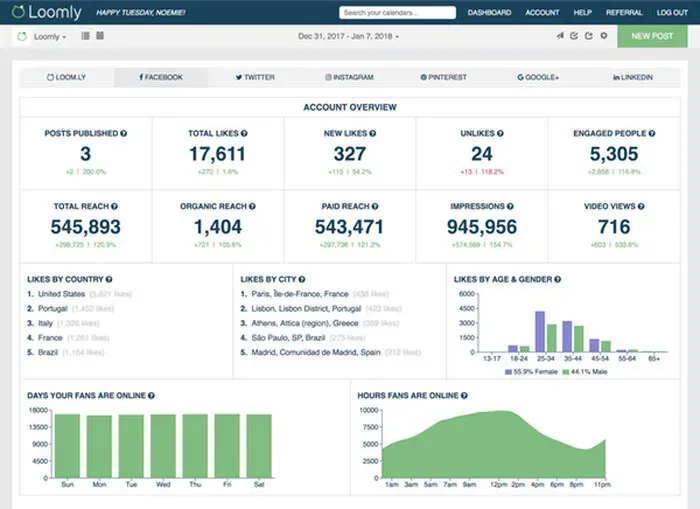 Interact with your Audience – Loomly also has a feature where you can view and respond to users who comment on your posts. You can easily flip between each social channel and respond to each comment quickly.
How ShopRaise uses Loomly
Most nonprofits cultivating communities use two to three social media platforms. This breadth increases the workload for development directors in charge of posting on social media. Utilizing a social media management platform makes this process much easier. Before finding Loomly, we managed our social media accounts separately. We knew about social media platforms but didn't make the switch until we wanted to start engaging our audience more. Currently we manage several calendars including general marketing, blog, and webinars. We have several team members that manage our program. We schedule most posts 2-3 weeks out, but we also maintain agility, sometimes adding up to three additional posts weekly. This increase in posting and management would have been impossible for us to manage efficiently without a social media management system.
If you would like to learn more about Loomly for Nonprofits you can watch our Tech Tool Talks webinar here.
You can also checkout How to get the 50% off Loomly deal for Nonprofits here.
Take a test drive of the ShopRaise program at https://www.ShopRaise.com or Signup for a Demo Today.