Most of us have either given or received a gift card at some point in our lives. Gift cards are popular for several reasons: they're convenient to purchase and use, they have widespread appeal, and they let the recipient choose exactly what they want to buy, eliminating the guesswork that can come with traditional gifts. Plus, they work for all types of occasions, from birthdays to holidays to rewards for a job well done.
While it's easy to see the benefits of gift cards for individuals, they can also be used for fundraising! Nonprofits and other cause-based organizations can easily run gift card fundraisers to bring in additional revenue and engage supporters.
In this guide, you'll learn all you need to know to get started with a gift card fundraiser for your organization, including:
At ShopRaise, we empower organizations and their supporters by providing ways to give back through everyday purchases. Whether you've leveraged gift card fundraising in the past or are considering it for the first time, our team is prepared to help you raise more for your organization. Let's dive in!


What Is a Gift Card Fundraiser?
A gift card fundraiser is essentially what it sounds like: supporters purchase gift cards for their favorite businesses, and a portion of the proceeds from that purchase goes toward your organization's mission.
Digital gift cards tend to work best for these types of fundraisers, as they can be delivered to supporters' inboxes within minutes of their purchase at no cost to your organization. Supporters can then use the cards for their own in-person or online shopping to shop more ethically. Or, they can use the gift cards more traditionally by forwarding them to a friend or family member.
No matter how the cards are used, the purchase directly benefits the organization of the supporter's choice. The exact percentage that goes toward their chosen cause varies depending on the retailer who provided the gift card and the platform the supporter uses to buy it. However, even small contributions can add up to make a major difference!


Benefits of Gift Card Fundraising
Gift card fundraisers benefit both the organizations that run them and the supporters who participate. Here are some of the main benefits for organizations:
They can be run year-round. Supporters may buy more gift cards at certain times of year than others, such as during the holiday season and in the spring to prepare for upcoming graduations and weddings. But the cards can still be used for personal shopping and as birthday gifts at any time of year. You might launch your fundraiser during one of these busy seasons but keep it open all year long to maximize engagement.
They provide unrestricted revenue. The funds raised through gift card sales can be put toward any area of your organization's budget, including necessary but often underfunded operating expenses.
They're easy to run. Once you've set up your fundraiser, running it is fairly hands-off, so all you have to focus on is promoting gift card sales and tracking results.
They're extremely versatile. The more retailer options you include in your gift card fundraiser, the more supporters you'll appeal to.
The main benefit of a gift card fundraiser for supporters is convenience. Once they find a gift card that interests them, they can access it from their inbox while making both online and in-person purchases at the retailer or restaurant they've chosen. If they're giving the card to someone else, they can either print it out or forward the email in seconds, making this a great last-minute gift option as well as a way to shop for a good cause.


How to Launch a Gift Card Fundraiser in 3 Easy Steps
In addition to being convenient for supporters, gift card fundraisers are also easy for organizations to run. You can get started in just three simple steps:

1. Partner With an Online Fundraising Platform
The easiest way to run a gift card fundraiser is to go through a dedicated fundraising platform that will work with you throughout the process to get set up and launch your campaign. When researching gift card fundraising platforms, consider the following questions:
Does the platform support organizations of a similar size and with similar causes to yours?
Is the platform easy to use from both the supporter side and the organizational side?
How much assistance is provided with setup and data tracking?
How many different gift cards can supporters choose from?
Does the platform handle negotiations with retailers, or will you have to procure gift cards from each business yourself?
Once you choose a platform, set up an account to receive a landing page for your organization. After you finish the onboarding process, you'll be ready to start fundraising!
2. Market Your Gift Card Fundraiser
Although the actual running of your gift card fundraiser will require little time and effort from your organization once it's set up, effective marketing is essential to its success. Some of your supporters may not have participated in a gift card fundraiser before, so you'll need to provide instructions on buying gift cards and regularly remind them to keep participating in the fundraiser.
Try promoting your fundraiser using the following communication channels:
Your organization's website. Create a page explaining your fundraiser, and include a link to the landing page where supporters can buy gift cards to make the navigation as easy as possible.
Email marketing. Send out focused email blasts promoting your gift card fundraiser when it launches. If your organization has a monthly or quarterly newsletter, add a section about gift cards to it as well.
Social media. Link to your fundraiser's landing page in all of your organization's social media profiles, and post graphics or short videos explaining the process on each platform you use.
Fundraising flyers. Well-designed print and digital flyers can catch the attention of supporters who may not be familiar with your cause but could still be interested in buying gift cards.
The platform you partner with may also help you promote your gift card fundraiser by providing flyers, email templates, and other marketing materials branded to your organization, so take this into account as you make your decision.
3. Track Your Fundraising Data and Thank Your Supporters
Besides marketing, the other aspect of gift card fundraising your organization needs to be actively involved in is data analysis. The best fundraising platforms will allow you to view real-time data on your fundraiser, allowing you to evaluate which aspects of your marketing strategy are working well and where you could adjust your efforts to increase sales.
Your collected fundraising data can also help you recognize your supporters. By tracking which supporters are buying gift cards and how much their purchases have contributed, you can personalize your thank-you messages. Addressing shoppers by name and sharing how their individual purchases will benefit your cause makes them feel valued and encourages them to keep engaging with your organization.

Here are a few key data points to consider when evaluating your gift card fundraiser campaign performance:
Participation rate measures the percentage of supporters who participated and provides a general indication of campaign engagement.
Conversion rate measures the percentage of participants who completed a purchase. This helps assess the effectiveness of the campaign overall.
Average contribution amount indicates the average amount donated by each supporter and helps identify giving patterns.
Traffic sources include the main source of traffic that led participants to the fundraiser whether through email, social media, or website referrals.
Abandoned carts show the number of unconverted supporters and can provide insights into obstacles that hinder conversions.
Take note of these metrics as your campaign comes to a close so that you can refer to them when planning your next gift card fundraiser. For example, if you notice that the majority of your traffic comes from email, you can create a more inviting and intuitive email campaign next time.
4. Thank Your Supporters
Your collected fundraising data can also help you recognize your supporters. By tracking which supporters are buying gift cards and how much their purchases have contributed, you can personalize your thank-you messages using strategies such as:
Posting social media shoutouts: Recognize your top contributors by giving them a social media shoutout. Simply feature an individual on your post or story and tag them as a thank you.
Sending follow-up surveys: Gather feedback from your supporter's experience as a way of valuing their participation. Make the survey short and to the point, so they can quickly complete it.
Offering handwritten notes: Personalize your appreciation by sending handwritten notes or digital eCards to key participants. Consider having a leader of your organization such as your nonprofit's Vice President or School's Principal sign the notes.
Sending impact reports: Let contributors know how much of a difference they made by detailing exactly what their gifts funded. For example, a school could say a supporter's gift helped fund 20 new computers to upgrade its current technology.
Addressing shoppers by name and sharing how their individual purchases will benefit your cause makes them feel valued and encourages them to keep engaging with your organization.

Featured Gift Card Fundraising Solution: ShopRaise
ShopRaise is an online shopping fundraiser platform that allows shoppers to support their favorite charitable causes by making everyday purchases. Historically, supporters have contributed by using the ShopRaise app and browser extension while shopping online at participating retailers. Through this method, a portion of their purchase totals goes directly to the organization of their choice.
ShopRaise is now expanding into the gift card fundraiser space to make it even easier for nonprofits, teams, schools, and other organizations to raise funds! By purchasing gift cards through ShopRaise, shoppers can contribute to their favorite causes through in-person purchases as well as online ones. With more than 200 businesses to choose from, every purchase can make a difference.
How It Works
ShopRaise is free and easy to use for both organizations and supporters. Let's walk through the gift card fundraiser process from both perspectives.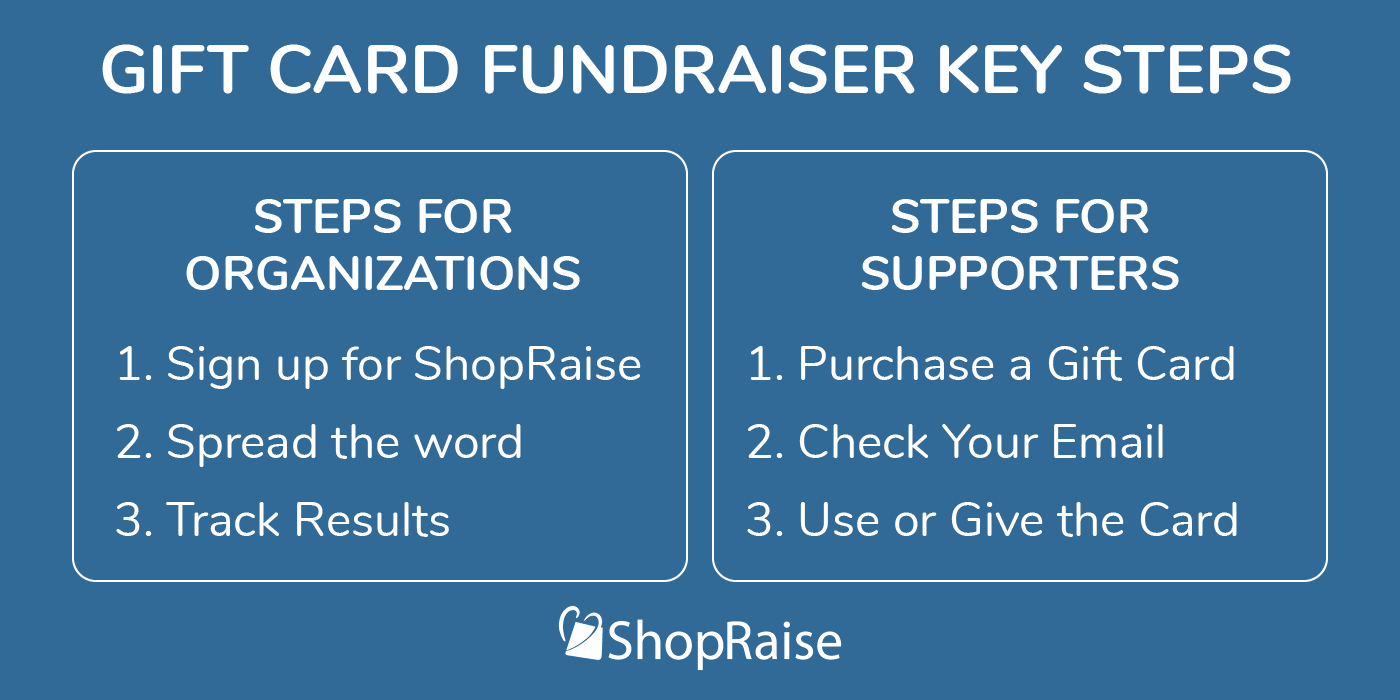 For Organizations
If your organization is already registered with ShopRaise, there are no additional steps you need to take to participate in gift card fundraising! Gift card sales are integrated into the existing fundraising platform, so all you need
to do is let supporters know that this option is available to them in the app.
For organizations that are new to ShopRaise, you can get started with both the online shopping fundraiser platform and the new gift card feature in three easy steps:
Sign up for ShopRaise. The ShopRaise team will walk you through a simple onboarding process, create a branded landing page for your organization, and answer any questions you may have.
Spread the word. ShopRaise also provides customized marketing materials that you can use to promote online shopping and gift card fundraising, since communication is essential for any shop-for-a-cause fundraiser to succeed.
Track results. Your organization's dashboard will display real-time fundraising data to help you thank your top supporters individually and hone your marketing strategy. To protect shoppers' privacy, you'll only be able to see their names and fundraising totals—only the supporter will know exactly what items they purchased.
This process is the same no matter the organization type: ShopRaise works with traditional 501(c)(3) nonprofits, faith-based organizations, community groups, sports teams, and schools to power their online fundraising efforts.
For Supporters
Supporters of any type of organization enrolled with ShopRaise can also participate in gift card fundraising in just three steps:
Purchase a gift card from the ShopRaise Gift Card Shop. This feature is available through the ShopRaise app, meaning supporters who already use the app have access, and those who don't can download it for free.
Check your email. A digital gift card will be delivered to your inbox within a few minutes of your purchase.
Use or give the card. You can immediately use the card to pay for in-person and online purchases at your chosen retailer. Or, you can pass it along to someone else by forwarding the email or printing out the card.
As soon as you buy a gift card, your chosen organization will receive a portion of the total purchase price (5.5% on average). The ShopRaise app allows you to view your fundraising totals, so you can see how these small contributions make a difference over time.
Benefits of Using ShopRaise for Gift Card Fundraising
ShopRaise's new gift card feature adds to an already unique way to fundraise. Here are just a few of the benefits of using ShopRaise for your organization's gift card fundraiser:
Gift card selection. More than 200 gift cards are available across 10 different business categories to appeal to all of your supporters' interests. The list includes many major retailers such as CVS, DoorDash, Home Depot, PetSmart, and Amazon.
Branding. Since ShopRaise customizes your landing page and marketing materials with your organization's brand elements, your supporters can trust that their contributions will directly benefit your cause.
Scalability. ShopRaise works for any size organization, from local youth sports teams to enterprise-level nonprofits.
Plus, by signing up for ShopRaise, your organization gains access to both the new Gift Card Shop and the legacy online shopping fundraiser features, allowing you to earn contributions through both fundraising methods!
Gift Card Fundraisers: The Bottom Line
Adding gift card fundraising to your organization's revenue streams is free, easy, and provides you with unrestricted funding year-round. By leveraging ShopRaise's new gift card features alongside the existing online shopping fundraiser platform, organizations of any size and type can offer supporters multiple options for supporting their favorite causes by making everyday purchases.
To learn more about incorporating shopping into your fundraising strategy, check out these resources: