Whether you're buying a birthday gift for a friend, a nice watch you've been saving for, or just more laundry detergent, online shopping is likely a normal part of your daily life. Research shows that in 2022, more than 268 million people made purchases online, and that number is projected to surpass 284 million by 2025.
It's easy to see why online shopping is so popular. Online shopping allows shoppers to make purchases from anywhere at any time and have their items conveniently delivered to their homes. The convenience of online shopping also allows supporters to give back to their favorite nonprofits without any additional cost to the shopper or the organization.
In this complete guide to shopping for a cause, we'll cover:
At ShopRaise, we empower nonprofits and their supporters by turning everyday purchases into a way to give back. Whether you're already familiar with shopping fundraisers or are new to shopping that gives back, our team is prepared to help nonprofits launch a successful shop for a cause fundraiser and encourage supporters to give back. Let's get started!


Shop for a Cause: Frequently Asked Questions
If you aren't familiar with shopping for a cause, don't worry. Getting involved with a shop for a cause program is easy for both organizations and their supporters. However, before getting started, it's important to have all of the basics down of what shopping for charity means and how both shoppers and nonprofits can get started.
What is shopping for a cause?
"Shopping for a cause," also known as "shopping for good," "philanthropic shopping," "socially conscious shopping," and even "ShopRaising," is the process of purchasing goods or services in a way that benefits a nonprofit organization or charitable mission.
More specifically, shop for a cause fundraisers allow supporters to contribute to nonprofits by making purchases they normally would. This means that shoppers can still take advantage of any sales or discounts they would usually be offered. The contributions from shopping fundraisers come from the retailers supporters buy from at no additional cost to supporters.
How can you shop for charity?
There are multiple ways for consumers to support charitable organizations while they shop, and we'll cover several common methods in this guide. Whether you choose stores that have philanthropic ideals, buy items through a shop for a cause app, or purchase products as part of a fundraising campaign, anyone can give back while shopping in a way that appeals to them.
How can nonprofits launch a shop for a cause fundraiser?
Nonprofits and other charitable organizations can partner with an online shopping fundraiser program to create an additional revenue source for their cause. These programs are usually easy to set up and free for nonprofits and supporters alike.
Shopping fundraiser programs partner with multiple online retailers that have agreed to make donations when your supporters shop through an accompanying app or browser extension. Each individual donation is usually small, but fundraising revenue adds up over time as more supporters give back while going about their normal shopping routines.

5 Popular Ways to Shop for a Cause
Shopping to support nonprofits has evolved over the years, especially as online shopping has become more prevalent. Here are five popular ways nonprofits might ask for your support through shopping:

Shop at a store that gives back
As shoppers have become more aware of the impact of their purchases, many retailers have committed to supporting good causes. Through their corporate social responsibility programs, these businesses release philanthropic mission statements and annual giving reports to prove to shoppers that they will follow through on their donation promises and contribute to causes their customers care about.
Let's say you need a new winter coat, but you have several options of where to buy it. There's a Macy's at the mall near your home, an outdoor merchandise store nearby, and a locally owned shop you've been to before. If you wanted to shop for a cause with your coat purchase, you'd need to take the time to research each company's philanthropic programs.
After doing some digging, you discover that Macy's has a "rounding up" program that rounds your purchase to the next dollar and donates the difference to a local nonprofit. While you aren't familiar with the organization, you look into it and decide that it is a worthwhile cause. So, you choose to make your purchase at Macy's instead of the other two stores, which did not have shop for a cause programs.
Pros of shopping at a store that gives back
Researching corporate social responsibility programs will make you a more informed and more ethical shopper.
If a store you regularly visit has a giving program, this method of shopping for a cause doesn't require you to go out of your way.
Cons of shopping at a store that gives back
Researching multiple stores' philanthropic policies takes time.
You usually can't choose the organization the funds support, and many organizations support large nonprofits that, while still doing good, aren't lacking funds.
Some stores restrict the products their charitable giving program applies to or the amount they can give back within a specific time frame.

Shop at a nonprofit or charity store
Some nonprofits partner with e-commerce platforms to sell branded t-shirts, hats, mugs, and other merchandise related to their specific cause. Many nonprofits also sell unique and limited merchandise at events and during fundraisers, and some even open their own brick-and-mortar stores. No matter where you make these purchases, the profits go directly to the organization's mission.
Pros of nonprofit or charity stores
You know exactly what organization you're supporting and have the freedom to choose from a variety of causes, rather than letting a retailer decide for you.
The online stores are set up to benefit nonprofits and charities first, so you can be confident that the nonprofit you buy from receives the money from your purchases.
Rather than donating a fraction of your total purchase to the organization, nonprofit and charity stores ensure as much of your purchase goes to their cause as possible.
Cons of nonprofit or charity stores
These stores offer a small range of items. While some are practical, such as mugs and water bottles, it's unlikely that most items sold will be on your weekly shopping list.
In most cases, you'll need to do research and go out of your way to find a nonprofit or charity store to make purchases.

Purchase from a buy one, give one brand
Buy one, give one brands (or one-for-one brands) are businesses that go beyond standard philanthropic programs and pledge to donate one unit of their product for every purchase made. For example, a shoe brand may give a pair of shoes to a child in need for each pair purchased, or an office supply business might donate a notebook or pack of pens to a low-income school district each time someone buys one of their products.
Pros of one-for-one brands
The brands let shoppers buy for themselves the same items as the ones that will be donated, so the giving process is clear and tangible.
Items from buy one, give one brands are often sold online or at popular retailers, providing convenience for shoppers.
Cons of one-for-one brands
These brands tend to be small in number and sell a limited amount of items.
While many nonprofits appreciate in-kind donations, other organizations prefer or need monetary support rather than physical items to accomplish their mission.

Buy charity-specific products
For-profit businesses will occasionally partner with nonprofits to develop products that specifically benefit a charitable cause. If you purchase these items, a percentage of your purchase goes to the nonprofit partner.
For example, in the weeks leading up to Earth Day, a jewelry brand might launch a line of beaded bracelets made with recycled plastic. Each time someone buys one of these bracelets, the business will donate 10% of the proceeds to their nonprofit partner, whose mission is to remove plastic waste from the ocean. Before buying a charity-specific product, do your research and make sure the brand explicitly states how much will be donated to the nonprofit.
Pros of charity-specific products
The items can usually be found in common retail stores or online.
Many charity-specific products are items shoppers intend to purchase anyway, such as clothing or accessories.
Cons of charity-specific products
Brands often develop charity lines on a seasonal basis, meaning what's available won't always line up with your shopping needs.
You'll need to do some research to make sure you're supporting a business that will follow through on their promised giving.

Use a charitable credit card when shopping
Charitable credit cards allow you to give a percentage of all of your purchases to a nonprofit. While most credit cards allow shoppers to earn points or cash back on their purchases, some charitable credit cards instead donate the accumulated rewards to a nonprofit. Other cards allow users to make monthly donations based on how much they spend.
Pros of charitable credit cards
You can pay with a charitable credit card at any retailer who accepts that type of card, so you'll likely be able to incorporate its use into your regular shopping routine.
These credit cards also work for both online and in-store purchases.
Cons of charitable credit cards
Applying for credit cards, including charitable ones, can be a hassle.

Our Favorite Way to Shop for a Cause: ShopRaise
ShopRaise is an online shopping fundraiser platform that allows shoppers to support their favorite nonprofits as they make everyday purchases. With a wide network of partnered businesses, ShopRaise allows supporters to shop as usual on many popular sites. The mobile app and browser extension automatically connect online purchases to a chosen nonprofit, contributing a percentage of the supporter's total spending at no additional cost to them or the organization.
How it Works
ShopRaise is as user-friendly as fundraising gets. If a nonprofit you support uses ShopRaise, all you need to do is download the ShopRaise app and browser extension to start shopping online for your cause.
Let's walk through the steps from both the supporter and nonprofit perspectives.
For Supporters
Supporters can get started shopping for a cause by:

Downloading the ShopRaise app or browser extension. With both mobile and desktop support, shoppers can make purchases from any device.
Shopping at participating retailers. Shoppers can make purchases from any of ShopRaise's participating retailers to earn for their cause. You'll pay the same prices and have access to the same coupons and deals you normally would.
Your cause earns. A percentage of each sale is automatically given to the nonprofit of your choice.
While each retailer offers their own rates, shoppers have the potential to contribute up to 10% of each online purchase to their favorite nonprofit at no additional expense. After each purchase, supporters can check their history in the app to see how their online shopping adds up to a significant contribution.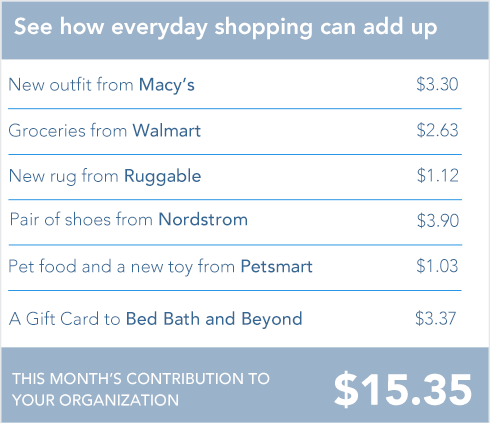 For Organizations
Organizations can access the power of online shopping with ShopRaise by:

Signing up for ShopRaise. The ShopRaise team will walk you through a simple onboarding process, answer any questions you may have, and even create a branded landing page for your organization.
Spreading the word. Communication is essential to a successful shopping fundraiser. Leverage all of the marketing channels your organization typically uses, such as your website, email, flyers, and social media, to make supporters aware of your fundraiser and help them get started. ShopRaise can help by designing custom marketing materials organizations can use to reach out to supporters.
Tracking results. Organizations can view real-time data showing which supporters are shopping and how much they've earned, allowing you to thank your top shoppers individually and encourage them to keep fundraising. However, ShopRaise protects consumer privacy by ensuring that only the shopper knows exactly which items they've purchased.
While many organizations that fundraise through ShopRaise are traditional 501(c)(3) nonprofits, online shopping fundraisers can also benefit schools, community groups, sports teams, and faith-based organizations. The ShopRaise team's years of experience allow each of these groups to make the most of the platform.

Benefits of Using ShopRaise to Shop for a Cause
ShopRaise is a unique way to fundraise, allowing supporters to send their favorite nonprofits extra revenue as they shop. Here are just a few of the perks that both supporters and organizations can look forward to after signing up for ShopRaise:
Branding. ShopRaise creates branded landing pages and mobile and desktop browsing experiences for each nonprofit. Plus, supporters can trust that their contributions will actually go to their desired nonprofit when they see the organization's logo, color scheme, and mission statement on the fundraiser landing page.
Custom marketing materials. With access to emails, flyers, web banners, and more created by ShopRaise, organizations can hit the ground running getting the word out about their shopping fundraiser. Supporters can then easily find the instructions they need to get started and will be reminded regularly to shop for a cause.
Intuitive reporting tools. ShopRaise comes equipped with real-time reporting capabilities that allow nonprofits to make data-driven decisions to maximize contributions and let supporters see the impact of their purchases over time.
Scalability. ShopRaise works for organizations of any size, meaning shoppers can choose to support enterprise-level nonprofits or small community organizations through the same platform.
Versatility. As of 2023, the ShopRaise app also provides access to new gift card fundraising features. Shoppers can purchase digital gift cards from more than 200 retailers with a portion of the proceeds going back to their favorite nonprofit. Since these gift cards can be used online and in person, every purchase can make a difference.
ShopRaise is also free and easy to use for both supporters and organizations. Online shopping is considered a passive fundraiser because supporters can contribute as they go about their daily lives. Plus, the actual running of the fundraiser is fairly hands-off, so all organizations have to focus on is marketing and tracking results.
Shopping for a Cause: The Bottom Line
Shopping for a good cause is a win-win for nonprofits and supporters. As a supporter, you might be surprised just how many organizations you can support through your regular shopping and the variety of ways you can do so, from buying items at nonprofit stores to charitable brands to online shopping fundraisers. Especially if you choose the latter option, you can incorporate shopping for a cause into your daily routine.
On the organizational side, do your research and weigh your options carefully to make the most of your supporters' shopping for your cause. Consider partnering with a fundraising platform like ShopRaise to start earning for your organization year-round.
For more information on shopping for a cause, check out these additional resources: