Whether you're buying a gift for your significant other, a nice watch you've been saving for, or just more laundry detergent, online shopping is a huge part of our daily lives. In fact, research shows that in 2020, almost 256 million people made purchases online. That number is only expected to grow in the coming years.
It's not hard to see why online shopping is so popular. Online shopping brings convenience and ease to our everyday lives, allowing shoppers to make purchases from the comfort of their own homes and wait for their shipments to come to them. Fortunately for your nonprofit, the convenience of online shopping also allows your supporters to give back without any additional cost on their end or yours.
Here at ShopRaise, we empower nonprofits and their supporters by turning everyday purchases into a force for good. Whether you're already familiar with shopping fundraisers or are new to shopping that gives back, our team is prepared to help your organization launch a successful shop for a cause fundraiser. In this complete guide to philanthropic shopping, we'll cover:
Shopping for a Good Cause: Frequently Asked Questions
5 Ways to Shop for a Cause in 2021
Our Favorite Way to Shop for a Cause: ShopRaise
Encouraging your supporters to shop for a cause is an easy task that provides your organization with an additional source of revenue throughout the year at no additional cost to your supporters. All the funds raised through a shop through a cause fundraiser are also unrestricted, giving your nonprofit a reliable, flexible revenue stream. Shopping for a good cause is a win-win for your nonprofit and your supporters, and you can get started immediately with the right online shopping platform.
Once you shop for good, you'll never go back! Let's get started.



Shopping for a Good Cause: Frequently Asked Questions
If your organization or your supporters aren't familiar with shopping for a cause, don't worry. Many of the most common questions and concerns have surprisingly positive answers, meaning that setting up a shopping for good program is likely far easier than you first imagined.
However, before getting started, it's important to have all of the basics down of what shopping for charity means and how your nonprofit can get started.
What is shopping for a cause?
"Shopping for a cause," also known as "shopping for good," "philanthropic shopping," "socially conscious shopping," and even "ShopRaising," is the process of purchasing goods or services in a way that provides a benefit to a charitable organization or charitable mission.
More specifically, shop for a cause fundraisers allow supporters to contribute to nonprofit organizations by making the same, everyday purchases they normally would without being charged any additional expenses. This means that shoppers can still take advantage of the coupons, deals, and sales they normally would. The donations from shopping fundraisers come from the businesses supporters buy from, meaning nonprofits participating in a shop for a cause fundraiser can effectively receive free donations.
How can you shop for charity?
There are multiple ways for consumers to support charitable organizations while they shop, and we'll cover several of the most common methods in this guide. Whether you choose stores that have philanthropic ideals, buy items through a shop-for-good app, or purchase products as part of a fundraising campaign, there's a way to shop for good that appeals to almost everyone.
How can your nonprofit fundraise with shopping that gives back?
Nonprofits and other charitable organizations can align with online shopping programs to generate an additional source of revenue for their cause. Most of these programs are free for nonprofits and supporters alike, making online shopping programs an easy-to-use and low-cost way for nonprofits to raise money.
Online shopping platforms partner with multiple businesses that have agreed to make donations when your supporters shop through an accompanying online shopping app. These donations may be small for individual purchases, but add up over time and with multiple supporters all going about their normal shopping routines.

5 Ways to Shop for a Cause in 2021
Shopping to support charities and nonprofits has evolved over the years. As we enter the second half of 2021, keep an eye out for new and up and coming online shopping programs at your favorite nonprofits. Here are five ways nonprofits might ask for your support to them through shopping:

Shop at a store that gives back.
One way to shop for a good cause is to choose stores that give back in some way. As consumers become more interested in brands' broader philosophies and values, shoppers can use their dollars to hold businesses accountable for their corporate social responsibility. Be sure to research corporations' philanthropic mission statements and annual giving reports to find organizations that give to causes you care about and follow through on their donation promises.
Let's say you need a new winter coat. You have several options nearby to consider. There's a Macy's at the mall near your house, but there is also a discount store and an outdoor merchandise store you've been to before. If you wanted to shop for a cause with your coat purchase, you'd research each company's philanthropic programs to see what their values are and if your purchase would benefit a charitable cause.
You discover that Macy's has a "rounding up" program that rounds your purchase to the next dollar and donates the difference to a local charity. While you aren't familiar with the local charity, you look into it and decide that that is a worthwhile cause, and choose to make your purchase at Macy's instead of the other two stores, which did not have shop for a cause programs in place.
It's always good to contribute to charitable organizations, but the necessary research takes time. You may also not have the benefit of selecting which charity you'd like your purchases to support. Still, shopping at stores that give back is a thoughtful way to use your hard-earned dollars.
Pros
Researching businesses' philanthropy will make you a more informed shopper.
If a store you regularly go to has a giving program, shopping at stores that give back requires little to no extra effort.
Cons
Researching multiple stores' philanthropic policies takes time.
You can't choose the organization the funds support, and many organizations support large nonprofits that, while still doing good, aren't lacking funds.
Some stores place caps on giving or restrict which products their charitable giving program applies to.

Shop at a nonprofit or charity gift shop.
Some nonprofits and charities have online store fronts where they sell branded t-shirts, hats, mugs, and other merchandise related to their specific cause. These items can be purchased through an organization's online store. Many nonprofits also sell unique and limited merchandise at events and during fundraisers.
The profits from these purchases go directly to the charitable organization, so if you purchase from them, your money goes straight to the cause you aim to support.
However, nonprofit and charity gift shops are not for everyday purchases. If you're in need of a specific item, it's unlikely that a nonprofit or charity will happen to sell that item. This means that while you can count on these shops for selective merchandise, you will need to deviate from your usual shopping routine to buy from them.
Pros
With nonprofit and charity gift shops, you know what cause you're supporting and have the freedom to choose from a variety of causes, rather than letting a retailer decide for you.
The online stores are set up to benefit nonprofits and charities, first. This means you can be confident that the nonprofit you buy from receives the money from your purchases.
Many shopping for good programs donate a fraction of total revenue to the cause. Nonprofit and charity shops ensure as much of your purchase goes to the cause as possible.
Cons
Nonprofit and charity shops offer a small range of items. While some of these are practical, such as mugs and water bottles, it is unlikely that most items sold will be on your weekly shopping list.
It's unlikely you'll stumble across a nonprofit or charity shop in your day-to-day online shopping. This means you'll need to go out of your way to find a nonprofit or charity shop to make your purchases.

Shop at a buy one, give one business.
Buy one, give one businesses (also known as "one for one brands") are businesses that go beyond standard philanthropic programs and pledge to donate one unit of their product for every purchase that's made. For example, a bottled water company might pledge to secure 16oz of water for a community in need for every 16oz water bottle purchased, or a diaper company might promise to donate a cloth diaper to an orphan for every diaper they sell.
When you shop at a one-for-one brand, you know exactly what you're "donating" with every purchase, so it can be a more tangible and satisfying way to give for some shoppers.
Pros
Buy one, give one businesses let shoppers buy for themselves the items that will be donated, making the giving process clear and tangible.
Cons
While buy one, give one businesses are convenient to shop at if one is nearby, they tend to be small in number and sell a limited amount of items.
While many nonprofits appreciate item donations, many other organizations prefer or even need monetary support over physical donations to accomplish their mission.

Purchase charity-specific products.
Every once in a while, a for-profit business will partner with a nonprofit to develop a line of products specifically to benefit the charitable organization. If you can purchase one of these items, a certain percentage of your purchase goes to the partnered nonprofit.
Make sure the brand explicitly states the percentage of profits that will be donated to the nonprofit organization. For example, during Earth Day, a shoe brand might launch a co-branded product line that promises a portion of proceeds will support a corresponding environmental conservation nonprofit. Before making a purchase, research how much the promised portion is.
While you shouldn't be deterred from brand-specific charity products, some businesses end up leveraging a nonprofit's name for a PR boost without making significant contributions.
Pros
Charity-specific products can be found in normal retail stores, meaning you don't need to go out of your way to help out a good cause.
Many charity-specific products are items shoppers intend to purchase anyway, such as clothing.
Cons
Businesses can choose when and which products to create a charity line for erratically, meaning what's available won't always line up with your shopping needs.
Charity-specific products require some research to make sure you're supporting a business that will follow through on their promised giving.

Use a charitable credit card when shopping.
Charitable credit cards allow you to give a percentage of all of your purchases to a nonprofit or charity. While most credit cards allow shoppers to earn points or cash back on their purchases, charitable credit cards instead donate those same accumulated rewards to a nonprofit. Other charity credit cards allow users to make monthly donations based on their spending.
Make sure to research your charitable credit cards options as some companies offer low rates that require high monthly spending to earn meaningful donations. Additionally, only some charitable credit cards let users choose which nonprofit they support, so keep looking if a card is locked into a different nonprofit than the one you'd prefer to shop for.
Pros
Charitable credit cards can be used at any retailer who accepts credit cards, meaning there is no need to alter your normal spending habits.
Cons
Applying for and switching credit cards can be a hassle, and that applies to charitable credit cards, as well.
Charitable credit cards often don't allow shoppers to choose which nonprofit they support, and many cards only give to the largest nonprofit organizations.

Our Favorite Way to Shop for a Cause: ShopRaise
If you want to shop for a good cause online, consider downloading ShopRaise's free app and browser extension.
ShopRaise is an online shopping tool that allows buyers to support their favorite nonprofits through their normal spending habits. The mobile app and browser extension automatically connect your online purchases to your chosen nonprofit, donating a percentage of your total spending at no additional cost to you.
With nearly 1,000 retailer partners, ShopRaise allows supporters to continue shopping as usual at almost all of their favorite stores. While they spend, supporters can view how much they've contributed overall and per purchase, without spending any more out of pocket.
How it Works
ShopRaise is as user-friendly as fundraising gets. If your nonprofit organization uses ShopRaise, all you need to do is download their app and browser extension. Then, start shopping online for your cause.
Let's walk through the steps from both the supporter and nonprofit perspectives.
For Supporters
Supporters can get started shopping for a cause by:

Downloading the ShopRaise app. With both mobile and desktop support, shoppers can make their purchases from any device.
Shopping at participating retailers. Paying the same amount they would otherwise, shoppers can make purchases from any of ShopRaise's nearly 1,000 participating retailers to earn for their cause. Not to mention, supporters will still be able to access the same coupons and deals they normally would.
Your cause earns. With no additional work on a supporter's end, a percentage of each sale is donated to the nonprofit of their choice.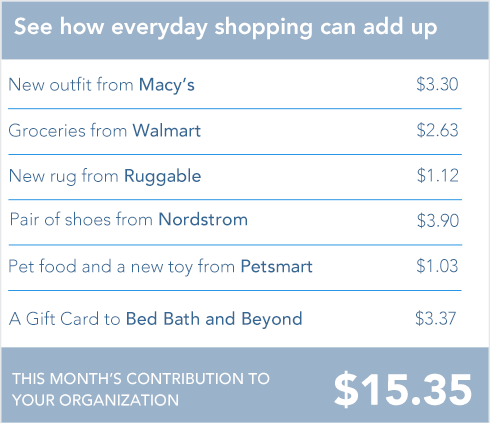 While each retailer offers their own rates, shoppers have the potential to contribute up to 10% of their online purchases to their favorite nonprofit, all at no additional expense. After each purchase, supporters can check their history to see how little-by-little, their online shopping turns into significant donations.
For Organizations
Nonprofit organizations can access the power of online shopping with ShopRaise by:

Signing up for ShopRaise. After partnering with ShopRaise, organizations will have custom, branded landing pages created for them.
Getting the word out. All nonprofit organizations need to do to run a successful online shopping program is to encourage users to download ShopRaise's mobile and browser extension. ShopRaise will even help by creating custom marketing materials organizations can use to reach out to supporters.
Tracking results. Organizations will be able to see which of their supporters are shopping and how much. However, ShopRaise makes sure to protect consumer privacy, keeping the details of what items are bought limited to just the customer who made the purchase.
ShopRaise aims to be as easy-to-use as possible, meaning nonprofit organizations can get hands-on support from ShopRaise's friendly team of professionals every step of the way. Nonprofits interested in ShopRaise can get started by requesting a demo to learn more and ask any lingering questions.
Benefits of Using ShopRaise to Shop for a Cause
ShopRaise is a unique way to raise funds, allowing supporters to shop and send their favorite nonprofits extra revenue. Here are just a few of the perks that both supporters and organizations can look forward to after signing up for ShopRaise:
Branding. ShopRaise creates branded materials for each nonprofit, including their landing pages, marketing materials, and mobile and desktop browsing experience.
Custom marketing materials. With access to emails, flyers, web banners, and more all created by ShopRaise, organizations can hit the ground running getting the word out about their shop for a cause fundraiser.
Intuitive reporting tools. ShopRaise comes equipped with real-time reporting capabilities that allow nonprofits to cultivate donors and make data-driven decisions to maximize contributions.
Scalability. ShopRaise works for organizations of any size, meaning you can support both enterprise level nonprofits and local organizations through your online shopping.
ShopRaise is also free and incredibly easy to use. With its low investment cost and user-friendly interface, ShopRaise is a no-brainer for organizations looking to receive extra funds, all without charging their supporters a cent.
Wrapping Up: Learn More About Shopping for a Cause
You can get started with ShopRaise by downloading our app and finding your favorite nonprofit. Then, start making online purchases at your usual online retailers to begin fundraising.
Supporters interested in shopping for a cause can learn more about where these extra donations come from and how to make the most of their online shopping. From schools to local nonprofits, you might be surprised just how many charitable organizations you can support through your regular online shopping. Here are a few resources to get started learning about and why shopping for a cause matters:
Veteran's Causes. Looking to support a veteran's cause? Get familiar with organizations dedicated to supporting veterans' needs and learn how you can support them through your daily shopping.
Online Shopping Fundraisers for Schools: How to Get Started. Schools can earn additional revenue all year long through online shopping fundraisers. Learn how you can support your local school with your online shopping.
App Trends for 2021. As we move into the second half of 2021, make sure you're up-to-date on mobile app shopping trends. Familiarize yourself with the current mobile giving space to meet your supporters where they're at, even when they're on their phones.