For busy nonprofits, fundraising can quickly become a full time job. On top of fulfilling your mission and overseeing day-to-day operations, your team will need to plan a variety of fundraisers to continue bringing in revenue. Plus, fundraising professionals also know how important it is to have a diverse set of fundraising sources to give their nonprofit as many chances at earning a sustainable income as possible.
As all of this can be quite time consuming, it's fortunate there is a solution: passive fundraising. Passive fundraisers are effective, easy ways for nonprofit organizations, especially schools, to add a new revenue stream to their fundraising calendars. However, the name is a bit misleading as successful passive fundraising campaigns don't take a "set-it-and-forget-it" approach. Instead nonprofits actively promote their campaign.
Here at ShopRaise, we have experience helping hundreds of nonprofits take active steps to make the most of passive fundraising, allowing their supporters to turn their everyday purchases into a force for good. To help your nonprofit do the same, we've put together this guide that will cover:
What is Passive Fundraising?
Promoting Your Passive Fundraising Program
5 Passive Fundraising Ideas for Nonprofits
Whether you are new to the idea of passive fundraising or already make use of these types of fundraisers, your nonprofit can likely benefit from exploring new ideas and strategies to improve your earning potential. Let's start with some foundational knowledge and questions about passive fundraisers.
What is Passive Fundraising?
Passive fundraising is a method of fundraising that allows supporters to generate revenue for the causes they care about by taking actions they were likely going to anyway.
For instance, many of the most successful passive fundraisers are online shopping fundraisers. These allow supporters to make online purchases and have a percentage of their total purchases go to their nonprofit of choice, at no additional cost to them or the nonprofit. As many supporters already make online purchases, this can be an easy and convenient way to raise funds.
Additionally, contrary to popular belief, passive fundraisers should not be treated passively by the organizations running them. For these fundraisers to find success, nonprofits should take the needed steps to inform their supporters about their fundraiser and help them get started.
How does passive fundraising work?
One of the benefits of passive fundraisers is that most of them don't require your supporters to spend any additional money. Instead, they use methods that revolve around earning more from retailers through purchases that were likely going to be made anyway.
This means your supporters can continue giving without reaching back into their wallets, helping your more moderate donors to give more than they potentially could otherwise.
The right passive fundraising programs will interface with retailers to set the exact contribution rates for you, ensuring you don't need to get involved in complex negotiations. This does mean rates and partners will change, so look for a passive fundraising solution with many retail partners your supporters are likely to buy from.
Retailers make these agreements for a number of reasons. Some may appreciate the reputation boost of being associated with nonprofit causes, while others may be incentivized by the potential of a shopping program to encourage more purchases. Either way, it's a win-win-win situation for your nonprofit, your supporters, and the businesses.
How much revenue can passive fundraising earn?
Different passive fundraisers provide different projected revenue totals based on their fundraising model. Some passive fundraisers can help supporters raise contributions of up to 10% on their purchases, while others might have an expected total of 0.5% or lower.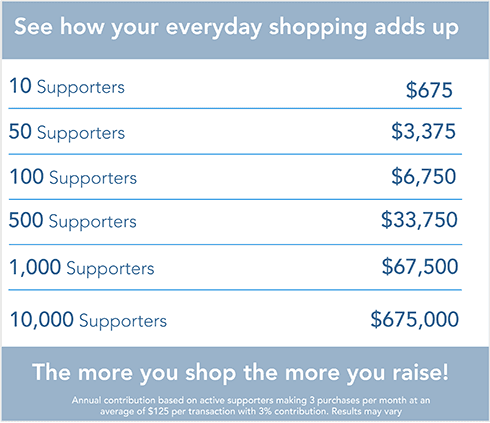 However, no matter the exact revenue model, nearly all passive fundraisers have one thing in common: they are designed to accumulate funds over time. While fundraising events and campaigns tend to be one big push for contributions, passive fundraisers should be treated as additional sources of revenue that can easily be added to an already busy fundraising calendar.
Then, these fundraisers will steadily earn money throughout the entire year, providing a reliable stream of revenue between campaigns and fundraising events.
How can a nonprofit get started with passive fundraising?
Before getting started with passive fundraising, nonprofits should research available programs and sign up with one that fits their organization. The right program will be hands-on and even help nonprofits get a jumpstart on marketing efforts by creating promotional materials. We'll explore a few popular passive fundraisers later on in this article.

Promoting Your Passive Fundraising Program
Passive fundraisers are passive in that they will regularly earn a steady stream of revenue without constant intervention by your nonprofit, in contrast to large, active fundraising pushes such as events and campaigns. However, just like more active fundraisers, successful passive fundraising programs need to be promoted.
Otherwise your new supporters may miss out on supporting you through your passive fundraiser! Plus, it's always a good idea to remind your old supporters to continue using it. Here are a few ways you can promote your passive fundraisers:
Make your directions easy to understand.
Chances are that many of your supporters are new to passive fundraising programs. This means they're likely to have questions and will need straightforward, comprehensive directions for how to get started.
Make sure your directions cover the basics, including:
What the program is. Make sure to give an audience-centered answer to this question instead of getting into the details behind your program. For example, there's no need to explain the chains of communication of the affiliate network your online shopping program facilitates. Instead, you can say that it's a fundraising opportunity that helps support your nonprofit through everyday purchases.

What supporters need to do to participate. Provide an overview of how supporters can participate as well as a step-by-step breakdown. For instance, a nonprofit partnered with an online shopping program should stress three important things: 1) supporters need to make purchases through a specific app or browser extension to participate, 2) supporters need to make purchases from participating retailers, and 3) supporters do not have to pay extra to participate.

Links to information pages and downloads. You can help your supporters get started by providing links to either your website or your passive fundraising program's information pages to learn more. For nonprofits using an online program, be sure to include links to your app and browser extension so supporters can get started immediately after reading your directions.
The rest of your marketing materials can include extra details, such as how the fundraiser helps your organization, but make sure that the directions don't get lost in the text. Carefully consider your formatting when creating your promotional materials to make them stand out and easy to refer back to.
Brand your passive fundraising page.
Some passive fundraisers, like online shopping programs, allow organizations to brand their pages. This helps create a consistent experience for supporters, reinforcing your nonprofit's identity while raising money for your cause.
Make sure all of your marketing materials are also branded. The right shopping program can even create these materials, including branded shopping pages, for your nonprofit. Then, all your organization needs to do is regularly send out these messages to continue promoting your program.
Highlight it in your regular message cadence.
Sometimes supporters stop participating in a passive fundraiser not out of disinterest but forgetfulness. Promoting your program in your routine communications can serve as a helpful reminder for supporters who might otherwise forget to login to your program's browser extension when making an online purchase, for example.
Consider regularly highlighting your passive fundraiser across a variety of channels, such as:

Email. Email is one of the most popular nonprofit communication tools and for good reason. Email helps you stay in regular contact, and a bold headline promoting your passive fundraiser can remind supporters to continue participating in your program even without opening your email.

Website banner. If your website banners and image carousels are an opportunity to highlight new and pressing activities at your nonprofit. Adding your passive fundraiser will send a message to new supporters and let your current ones know it's still going on every time they visit your website.

Newsletter. Both virtual and physical newsletters can serve as a general overview of your nonprofit's past week or month, based on your delivery schedule. To promote your passive fundraising campaign, you can add a reminder in your newsletter, ensuring readers will see it on a semi-regular basis.

Social media. Social media accounts benefit from regular activity. Consider adapting your passive fundraiser participation directions into a social media post. Then, pin it to the top of your page if possible or routinely reshare it to draw attention to your program.

Through other donation asks. Not every donor has the capacity to make regular gifts, but many are likely still interested in helping your organization. When making a donation request, consider promoting your passive fundraiser as a potential giving option.

Events. Events are one of the easiest ways to introduce or promote your passive fundraiser. Consider adding an activity at your event based around signing up for your passive fundraiser, or incentivize participation with giveaways or rewards.

Donation followup. Many organizations wait weeks or even months to engage supporters after a donation. While nonprofits shouldn't ask for another donation right after a supporter gives, passive fundraisers are a great opportunity to encourage immediate engagement. Use your donation receipt pages and confirmation emails as an opportunity to promote your passive fundraiser as a new way for supporters to get involved straight away.
When first launching your passive fundraiser, consider exploring other attention-grabbing strategies as well. These can include sending direct mail documents, mentioning it at other fundraisers and events, or even hosting activities to announce its initial kickoff.
Thank supporters who participate in your passive fundraising program.
You can keep supporters invested in your passive fundraising program by thanking them regularly for their participation.
Check your program's fundraising data and reports to see who your regular supporters are. Many passive fundraising programs will allow organizations to view their top earners but have privacy protections in place so nonprofits won't be able to see their exact purchases. This ensures supporters will feel comfortable making purchases as they normally would, while still allowing your nonprofit to reach out and say thanks.
Here are a few methods you can consider using to celebrate your top earners:
Thank-you cards. Handwritten thank-you cards are always a personal, heartfelt way to say thank you. Consider sending cards to supporters who hit certain milestones, such as contributing regularly for six months or reaching $100 total raised through your passive fundraiser.

Supporter spotlights. Spotlights are short profiles of your top supporters and can be featured on social media, your newsletter, or on your website. The added visibility can make supporters feel special and encourage your passive fundraiser's other participants to do a bit more to earn their own spotlight. Make sure to get in touch with your spotlighted supporters to get their permission ahead of time, as some individuals may be more comfortable with the attention than others.

Sending tokens of appreciation. Small physical reminders of your nonprofit can show supporters you see and appreciate their contributions while also serving as a reminder to continue supporting your cause. Consider sending small, branded merchandise items in the mail, such as keychains, magnets, t-shirts, hats, and more.
Remember to also keep up your regular donor appreciation strategies and include your passive fundraising supporters in them. Invite them to events, share the impact they're having on your organization, and send them personalized messages to create a unique, positive experience for each supporter.

5 Passive Fundraising Ideas for Nonprofits
There are multiple passive fundraising programs to consider, and your nonprofit should research partners and solutions carefully to find one that fits with both your organization and overall approach to fundraising.
To help you get started with your search, here are five of the top passive fundraising ideas for nonprofits:
1. Online Shopping Fundraisers
Online shopping fundraisers allow supporters to contribute to their favorite charitable causes by making everyday online purchases. Shoppers pay the same prices and have access to the same discounts they would otherwise, but a portion of the proceeds from each sale goes directly to the organization of their choice.
To launch an online shopping fundraiser, your organization will need to partner with a fundraising program like ShopRaise. ShopRaise operates within a wide network of retailer partners, including many businesses that your supporters likely shop at regularly. The only difference is that they'll use ShopRaise's free app or browser extension when making purchases from these retailers.
Here's a breakdown of how your supporters and your nonprofit can get started with ShopRaise:
For Supporters


Your community can start supporting your organization through ShopRaise in just three easy steps:
1. Download the ShopRaise app or browser extension. ShopRaise has an app, online mall, and browser extension, allowing supporters to shop for your cause from home and while on the go.
2. Shop at participating retailers. After downloading your app, supporters can make their routine online purchases, paying the same amount that they would otherwise and with access to the same coupons and deals.
3. A percentage of the sale is donated to the nonprofit of their choosing. When making purchases, your supporters don't need to do anything extra to have a percentage of their total given to your cause. It all happens automatically through ShopRaise!
After each purchase, your supporters can also view transactions and track how much they've raised for your cause. This helps maintain transparency and may even encourage some supporters to spend more to increase their contribution.
For Organizations


Some nonprofit organizations might hesitate to sign up for a brand new fundraiser, but fortunately, ShopRaise can be set up fast in just three steps:
1. Sign up for ShopRaise. After officially signing up, ShopRaise will go the extra mile and create a custom experience for your nonprofit's supporters, branding the app and mobile browser to your organization.
2. Promote your program. As mentioned, ShopRaise, like all passive fundraisers, needs active promotion to find success. ShopRaise will help your team get started by creating custom marketing materials you can use to market your online shopping program.
3. Track results. Once supporters start making purchases, you'll be able to view your top supporters and your total funds raised. With this information, you can reach out to thank supporters and gain insight into how to better market your fundraiser.
ShopRaise also pairs well with other passive fundraisers, such as grocery store shopping programs. For example, if your nonprofit has a program set up with your local Safeway, your supporters can also raise money through ShopRaise's partnership with them at the same time when they shop online.


2. Gift Card Fundraising
Another way supporters can contribute to your nonprofit by making everyday purchases is through gift card fundraising. Similar to an online shopping fundraiser, shoppers buy digital gift cards from their favorite retailers, and a portion of each sale goes back to your organization. Once these gift cards are delivered to supporters' inboxes, they can use them for online or in-person purchases. Or, they can forward the email to a friend or family member to give them the gift.
If your organization registers for ShopRaise's online shopping fundraiser, you'll automatically gain access to the platform's Gift Card Store as well! Your supporters can choose from more than 200 different gift cards, and your organization will receive 5.5% of their sales total on average.
You'll get the most traction from your gift card fundraiser if you launch in either November (in advance of the December holiday season) or April (to prepare for Mother's Day, Father's Day, peak wedding season, and school graduations). However, the ShopRaise platform allows your organization to bring in reliable revenue from both online shopping and gift card fundraising year-round. Supporters will likely need to buy birthday gifts at various times of the year, so they'll still purchase gift cards through your fundraiser outside of these peak times.
3. Grocery Store Shopping Programs
Some grocery stores have rewards programs where shoppers who use the business's rewards card can choose to have a percentage of their purchases donated to the nonprofit of their choice, as long as they are a participating partner.
Grocery store shopping programs are convenient for all shoppers, as it's hard to think of a more necessary purchase than groceries. However, benefits and program details vary wildly depending on the grocery store chain, so nonprofits and schools should investigate their local grocery stores' reward program before encouraging their supporters to sign up.
4. Restaurant Sponsorships
Among passive fundraisers, restaurant sponsorships can probably be considered the least passive. However, these can still work well for nonprofits, especially schools, with strong connections to local restaurants.
Restaurant sponsorships earn revenue by having restaurants host a fundraising night where half of the proceeds collected will go to the nonprofit they're partnered with. To help make these events profitable, the sponsored nonprofit is expected to do their part promoting the night and encouraging their supporters to attend.
Some chain restaurants have programs nonprofits can sign up for, but you can also set up a restaurant sponsorship with local establishments yourself. Doing so will involve negotiating with the business you want to partner with. Many passive fundraising programs usually try to help nonprofits avoid negotiations like these, as planning for a pitch meeting can require quite a bit of research and preparation.
5. Charitable Brand Lines
Sometimes brands will produce product lines where a portion of their proceeds will go to a nonprofit organization. In most cases, these product lines will help support large nonprofits they have relationships with and can provide the retailer with increased positive brand visibility.
For supporters, charitable brand lines can be a great opportunity if they are interested in the specific product or service. For example, if someone wants to buy high quality running shoes, a pair that promises to help support a good cause might sway their purchasing decision.
However, charitable brand lines tend to be specific to a few products and may not always align with your supporters' regular shopping lists. By contrast, a more broad shopping program can provide supporters with greater freedom of choice to buy only what they need.
Still, if your nonprofit does ever have the opportunity to be supported by a charitable brand line, it can be a valuable chance to earn a long-standing corporate sponsorship that can lead to other future benefits.
Wrapping Up: Learn More About Passive Fundraising
Passive fundraisers help nonprofits earn more all year round. Find a program that fits your organization's fundraising goals and work alongside them to promote your fundraiser. Remember that while they might be called passive fundraisers, your supporters need to know about your campaign in order to participate and make it a success.
Before getting started with a passive fundraising campaign, explore your available options. Here are a few guides on passive fundraising and shopping for charity to help kick off your research: