The end-of-year holiday season ushers in a spirit of joy, kindness, and generosity. It's no surprise, then, that year-end giving is vital for all types of organizations that fundraise. Research shows that 30% of annual charitable donations occur in December, and 12% of all gifts are made just in the last three days of the year!
If you're in charge of fundraising at a nonprofit, school, or faith-based organization, you're likely looking for innovative ways to engage supporters and incorporate the holiday spirit into your year-end campaigns. Fortunately, we've got you covered with more than 20 of the best holiday fundraising ideas out there. To help you find exactly what you're looking for, we've categorized the ideas as follows:
At ShopRaise, we believe that the best holiday fundraisers are the ones that keep on giving. While some of the ideas in this guide are specific to the year-end holiday season, many others can be continued or adapted to help your organization fundraise throughout the whole year. Let's get started!

Our Favorite Holiday Fundraising Ideas
In addition to being a popular season for charitable giving, the holidays are also a busy time for shopping! While there are many ways to fundraise through your supporters' shopping, the two that provide the most flexibility for supporters and the most consistent revenue streams for your organization are online shopping fundraisers and gift card fundraising.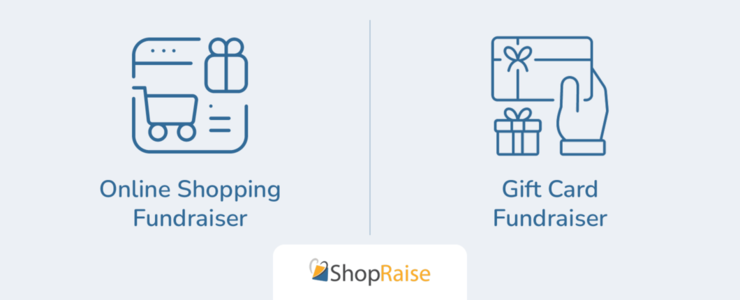 Online Shopping Fundraiser
Online shopping fundraisers allow supporters to contribute to your organization by making everyday purchases at participating retailers. Once a transaction is made, a portion of the shopper's sales total goes directly to your organization at no cost to them or you. These fundraisers are a great way for supporters to shop more ethically, especially around the holidays when they're likely buying presents, decorations, and more online.
Your organization can launch an online shopping fundraiser in three easy steps:

Register with an online shopping fundraiser platform like ShopRaise. ShopRaise is not only free and easy to use but also operates within a wide network of e-commerce businesses. Once your organization signs up, our experts will walk you through a simple onboarding process and set up your fundraiser's landing page. ShopRaise also provides the app and browser extension your supporters will use to shop for your cause.
Spread the word to your supporters. While the actual running of an online shopping fundraiser is fairly hands-off, you still need to actively promote it. ShopRaise can help with your marketing efforts by creating branded email templates, flyers, and website banners you can use to inform supporters about your fundraiser and remind them to participate.
Track your fundraising results. You'll be able to view real-time data on your fundraiser, allowing you to hone your marketing strategy and thank your top participants individually. ShopRaise protects supporters' privacy by showing just their names and fundraising totals on the organizational side—only the shopper will know exactly what items they purchased.
When your supporters use ShopRaise's app or browser extension to make online purchases, they'll pay the same prices as usual and have access to any discounts they would otherwise (including Black Friday and Cyber Monday deals). Best of all, you can leave your online shopping fundraiser open all year long to create a sustainable revenue stream for your nonprofit, school, sports team, club, or faith-based organization!
Gift Card Fundraiser
Gift card fundraising provides another opportunity for supporters to turn their holiday shopping into contributions to a good cause. Similar to an online shopping fundraiser, when participants buy digital gift cards from participating businesses, a portion of the proceeds goes directly to your organization.
As of 2023, ShopRaise is pleased to offer both the online shopping fundraiser capability and a new Gift Card Store through the same app. If your organization is registered with ShopRaise, you automatically have access to both fundraising tools at no cost!
Once supporters' digital gift cards are delivered to their inboxes, they have a few options for what to do next. They could:
Forward the email to a friend or family member to give them the gift card as a present.
Spend the gift card as usual at their chosen business, either online or in person.
"Double dip" by using the gift card to make a purchase through ShopRaise's online shopping fundraiser, thereby contributing even more to your organization!
The flexibility provided by gift card fundraisers isn't limited to the supporter perspective. ShopRaise's fundraising platform is highly scalable: it works for any size organization, from the smallest local church to the largest global nonprofit, and our team is happy to answer any questions you may have as your fundraising needs grow with your organization.


Online Holiday Fundraising Ideas
To expand your organization's reach and reduce upfront costs, consider incorporating online holiday fundraisers into your year-end campaigns. The best part is that many of these fundraisers can be adapted for year-round use or at least bring new supporters into the fold whom you can continue to engage throughout the coming year.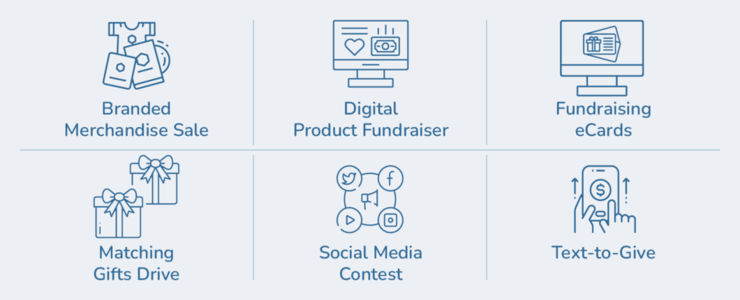 Branded Merchandise Sale
The year-end gift-giving season is the perfect time to promote your organization's existing online store or create a new one. Leading up to the holiday season, make sure your store is easily accessible from your website. Then, design new merchandise with your organization's branding, such as:
T-shirts, sweatshirts, hats, and other clothing items
Mugs, water bottles, keychains, or other keepsakes
Wall calendars and planners for the upcoming year
The one disadvantage of this fundraiser is that your organization's merchandise may not come to mind as quickly as a fundraising gift card or something they could buy at a participating retailer in your online shopping fundraiser when supporters are buying holiday presents. However, a unique upside is that your organization will receive a boost in brand awareness whenever a recipient wears or uses a product featuring your logo.
Digital Product Fundraiser
Product fundraising is one of the most classic types of fundraisers out there, and the holiday season is a great time to launch one. Using a fundraising web store platform makes it easy for your organization to sell festive products, including:
Treats such as cookie dough or chocolate bars
Holiday decorations like wreaths, wrapping paper, and poinsettias
Candles or scent-warmer melts with seasonal scents
Keep in mind that successful product fundraisers rely on your organization's supporters helping you sell these products. Additionally, research the platform you sell your products through to ensure your commission rate is as high as possible so you can raise more for your cause.
Fundraising eCards
In addition to fundraisers that allow supporters to purchase gifts, consider running a campaign where donors can send holiday eCards to their loved ones. Your organization can get started with this fundraiser in three simple steps:
Use eCard software to create a variety of fun holiday card designs, each featuring your organization's branding.
Embed your eCards into a landing page for your fundraiser so supporters can easily browse your designs.
Collect a small donation for each eCard sent!
While the end of the year is a great time to launch your eCard campaign due to the volume of holidays that fall between November and January, this is also a great year-round fundraiser. Just use the templates in your software to design additional eCards for other holidays where cards are commonly exchanged, like Valentine's Day and Mother's Day, as well as birthday and thank-you eCards that supporters can send at any time of year.
Matching Gifts Drive
Matching gifts allow your organization to double many of the donations you already receive during the busy year-end giving season. When a supporter who works for a business with a matching gift program contributes to your organization and submits a match request, their employer will also give, usually matching the original donation at a 1:1 ratio.
When approached strategically, matching gifts can be a lucrative funding source for your organization—not just during the holiday season, but year-round as well. In fact, it's estimated that between $2-3 billion is donated through matching gift programs annually, and more than 26 million people work for businesses with these programs.
However, the above source also reports that 78% of donors don't know if their company has a matching gift program, leading to more than $4 billion in matching funds going unclaimed each year. To solve this problem, actively market matching gifts to supporters, especially during the year-end giving season. Additionally, embed your matching gift tool directly into your donation form so donors can quickly check their eligibility and submit their match requests.
Social Media Contest
Leverage one of your organization's most effective outreach tools, social media, to hold a fun, virtual holiday contest. Give supporters a deadline to create a holiday-themed post that aligns with the format of your chosen social media platform. For instance, you could request submissions of festive pet photos on Instagram or ask your TikTok followers to film themselves doing a dance routine to a popular Christmas song.
No matter what idea or platform you choose, make sure supporters tag your organization and use a contest-specific hashtag in their posts so you can see all of the submissions in one place. Once the entry deadline has passed, give your followers 24-48 hours to vote for their favorite submission through likes or comments, and award a prize to the winner.
While the main purpose of a social media contest is to spread awareness of your organization, you can also fundraise by requesting a small donation from each participant. Or, instead of gathering all of your votes through social media interactions, upload the top entries to your website and have supporters choose the winner by making a small donation.
Text-to-Give
Text-to-give makes an excellent add-on to many holiday fundraisers. Plus, it's a great way to boost the funds you bring in on a significant giving day toward the beginning of the holiday season: GivingTuesday, held on the Tuesday after Thanksgiving in the United States. No matter when you launch your campaign, this fundraiser allows you to meet supporters where they likely already are—on their smartphones.
Once your organization signs up with a text-to-give provider, you'll receive a unique five-digit shortcode or 10-digit longcode. When supporters text a keyword to your code, they'll be directed to your online donation form to make their contribution. Make sure your form is mobile-optimized before you get started with text-to-give to make donating as user-friendly as possible.
Easy Holiday Fundraisers
While many of the fundraisers in this section involve an in-person component, they still require relatively little in the way of time and resources to put together—perfect for the busy holiday season!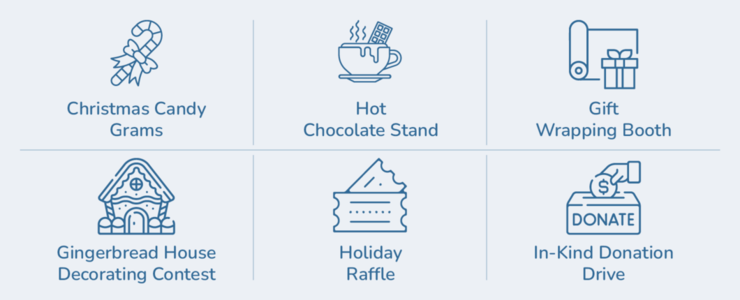 Christmas Candy Grams
Help your supporters spread a bit of cheer to their loved ones with Christmas candy grams. For this fundraiser, all you'll need is:
A large amount of candy. Buy in bulk to keep the upfront cost low, and try to choose a variety that doesn't contain common allergens like peanuts or soy (candy canes are often the safest choice).
Cardstock print-outs where supporters can write recipients' names and short messages upon purchase.
Red and green ribbon to attach the cardstock to the candy.
Sell the candy grams to your supporters at a small profit. Then, on the designated delivery date, have your staff members or volunteers dress up in festive costumes to distribute the candy grams to their intended recipients.
This type of fundraiser works best if your organization is strongly tied to the local community, making it ideal for schools and houses of worship. However, if your supporters are spread out across the country, you can still send candy grams through the mail as a sweet holiday surprise!
Hot Chocolate Stand
If your organization is located in a place where it gets cold in December, a nice cup of hot chocolate can make a supporter's day. For this fundraiser, just make a big batch of hot chocolate, procure some marshmallows and cups made for warm beverages, and set up a stand to sell the hot chocolate to community members.
If you want to add some variety to your hot chocolate stand, offer other winter beverages like hot apple cider or tea, as well as festive snacks. This fundraiser can also be combined with a number of other events or easy fundraising ideas, from bake sales to gift wrapping.
Gift Wrapping Booth
Speaking of gift wrapping, turning this activity into a fundraiser will allow your supporters to check one thing off their long holiday to-do lists while contributing to your cause. Gather a variety of wrapping paper designs, bows, gift tags, and boxes. Then, get a group of talented staff members and volunteers together and start wrapping!
Provide a list of suggested donation amounts for supporters based on the number and size of the gifts they want wrapped, and consider selling some of your extra supplies to raise additional funds. Additionally, make sure to pair this fundraiser with a food-related event or contest so your donors have something to do while they wait for you to finish their wrapping.
Gingerbread House Decorating Contest
There are two main ways to turn this fun holiday-season activity into a fundraiser. You could either include gingerbread house decorating as part of an in-person event or make decorating kits available for pickup and then hold a photo contest to judge the entries virtually.
Whichever route you choose to go, the only supplies you'll need for this fundraiser are building materials for each participant (either baked gingerbread or graham crackers), icing, and assorted candy for decorating. Charge a small fee per participant, and award a holiday-themed prize to the winners of the contest.
Holiday Raffle
Raffles are the perfect supplement to nearly any fundraising event or contest. Plus, the competition and suspense are highly engaging for participants. To give your raffle a holiday theme, choose seasonal prizes, such as:
A gift basket of holiday decorations, treats, or baking supplies.
A voucher for an all-expenses-paid Christmas dinner.
A holiday-themed experience like breakfast with Santa or tickets to a local production of The Nutcracker ballet.
Sell tickets either in person or online, and pick your lucky winner(s) on the designated day!
Note: Raffle registration laws vary by state. Before holding a holiday raffle, check the rules for the state your organization operates in to ensure raffles are legal and you've obtained any necessary permits for your fundraiser.
In-Kind Donation Drive
An in-kind donation drive is the perfect holiday fundraiser if you have supporters who want to see the tangible impact of their contributions on individuals in need. Depending on your organization's mission and your community's needs, you could collect items such as:
Non-perishable food
Winter coats, hats, gloves, and blankets
Toys and other holiday gifts
In-kind donation drives provide supporters with more control over how their contributions are used than fundraisers involving financial gifts. Plus, collecting physical items taps into the gift-giving spirit of the holiday season. Just make sure to provide donors with clear guidelines on what items you can and can't accept (for instance, food should be unopened and clothing may need to be new or gently used) to make sure you receive donations your beneficiaries can use.
Holiday Fundraising Events
Of all of the holiday fundraisers out there, events tend to require the most effort to plan and execute. However, the work you put in will be worth it because fundraising events tend to have a high return on investment and are engaging for your supporters.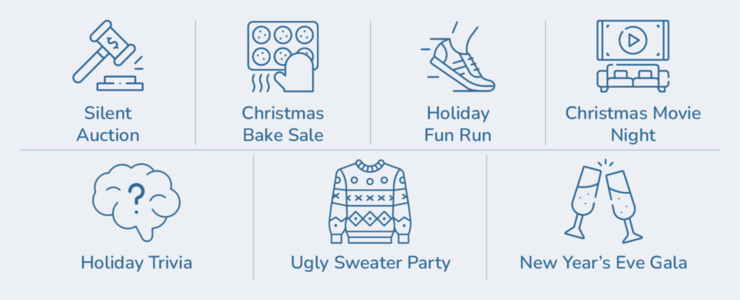 Silent Auction
Although a silent auction makes a great fundraiser any time of year, it's especially attractive to attendees around the holidays because they can often find one-of-a-kind gifts for their family and friends at a lower price than they would elsewhere. Your auction's success depends on choosing the right items, so make sure to include the following popular prizes in your catalog:
Themed gift baskets
Unique food and beverage items
Goods from or gift certificates to local businesses
Experience-based prizes like tickets to performances or vacation packages
Silent auctions can be held in-person, virtually, or in a hybrid format. Virtual auctions are the most convenient for attendees (especially those who live far away from your organization), while in-person events provide a way for you to connect with supporters and allow them to meet each other. Hybrid auctions are the best of both worlds, but you'll need to work harder to keep participants engaged at your venue and online at the same time.
Christmas Bake Sale
A bake sale is a classic fundraising event that works particularly well around Christmas as it's a popular time for baking. Ask talented volunteers to bake their favorite holiday treats—allow them the freedom to make anything from their family's recipe for classic iced sugar cookies to a new reindeer-shaped cake pop concept they found on Pinterest. However, you may want to send out a sign-up sheet to make sure you get a good variety of baked goods.
On the day of the bake sale, assign a price to each item and set everything up on a table with festive decorations. Make sure your organization can accept mobile payments like PayPal or Venmo in addition to cash to provide supporters with more flexibility as they buy your delicious holiday sweets!
Holiday Fun Run
For supporters who want to keep up their exercise routines among the busyness and extra treats of the holiday season, try hosting a fun run. Giving the event a fun name like a Reindeer Dash or Jingle Bell Jog will reinforce the seasonal theme and get supporters excited to participate.
In addition to charging an entry fee, consider setting up a peer-to-peer campaign so participants can collect additional donations from their friends and family leading up to your fun run. Then, chart your course—the 5K distance is popular as it's accessible for runners of all levels. On the day of the event, play Christmas music while participants are running and have your volunteers wear festive costumes as they hand out water and help with check-in.
Christmas Movie Night
From How the Grinch Stole Christmas to The Polar Express to Home Alone, watching Christmas movies together is a beloved pastime for many families. Why not turn that experience into a holiday-season fundraiser for your organization?
Choose a movie that is rated G or PG to make your event kid-friendly. Depending on your budget and the weather where your organization is located, set up a projector indoors or see if there is a nearby drive-in theater where you can host your movie night. To fundraise, charge a fee for admission, sell concessions, and set up a donation jar or text-to-give campaign for additional contributions.
Holiday Trivia
Test your supporters' knowledge of the holiday season with a trivia competition fundraiser. You can host this event in-person or online—either way, charge a small participation fee for each team that signs up.
To play to different supporters' strengths, host multiple rounds of trivia that each have a theme, such as Holiday History, Movies, or Song Lyrics. After every round, give the winning team a small reward, and save a grand prize for the team that answers the most questions correctly throughout the entire event.
Ugly Sweater Party
Get your supporters together for a casual evening of holiday festivities with an ugly sweater party! The first thing you'll need to do is decide whether you want your event to be family-oriented or adults-only, as this will dictate the timing and food and drink options for the party. Then, plan fun activities for attendees, such as:
A contest to determine who has the best ugly sweater
Games and crafts like gingerbread house making and ornament decorating
Other fundraising opportunities such as an auction or raffle
Your party is also a good opportunity for supporters to drop off their contributions to your holiday in-kind donation drive, as it saves them from having to make an additional trip to your organization.
New Year's Eve Gala
Since the last three days of the calendar year are so critical for fundraising, hosting a lucrative event like a gala in those final hours can give your organization a helpful last-minute boost. Start by personally inviting major donors and other high-value supporters to your event, although you can also make it open to the general public.
Your New Year's Eve gala can include a wide variety of activities, from dinner and dancing to a silent or live auction to presentations that look back on your organization's work over the past year. To create a sense of urgency around donating, consider incorporating a fundraising challenge into the event where attendees need to help you meet your goal before the clock strikes midnight and the new year begins.
Wrapping Up: Additional Resources for Holiday Fundraising
The ideas in this guide are just a few of the many ways your organization can generate additional revenue at the end of the year. Consider your needs, budget, and supporters' interests as you decide which fundraisers are right for your organization. With the right tools and a little holiday spirit, you can create a fundraising strategy that keeps your community engaged into the new year and beyond.
To learn more about how your organization can fundraise during the holiday season, check out these resources: